This month, we shine the spotlight on Lisa Stanley from Parkview Apartments in Minneapolis, MN. We are extremely grateful to have her leading the team at Parkview through a full renovation of the community.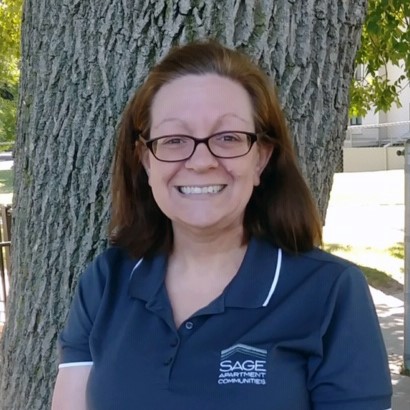 Lisa Stanley, Community Manager for Parkview Apartments has been with Sage since January 2020. Parkview is a 223 unit community in NE Minneapolis that is currently under syndication renovation with a team of six employees. When Lisa started at Parkview, she was immediately challenged with a rehab during COVID-19. Lisa has led the team to accomplish several tasks, including 223 units being certified, in just under 3 months. Delinquency was also a challenge and within in a few months, Lisa reduced delinquency by 9% and has sustained even during these difficult times. Lisa also decreased vacancy by 5% within one month of taking over the property. Amazing work in such a short period of time!
Lisa started in the industry in 2002 as an Assistant Manager at a project-based tax credit community and was a compliance specialist at a neighboring management company before she came to Sage. Lisa has a degree in American Sign Language and Deaf Study. She is a proud mother of two young children and loves the outdoors, camping and family time when she is not industriously working at Parkview!
Thank you Lisa and congratulations on all your accomplishments in 2020!