This month, we shine the spotlight on Cathy Wilbur. She is the Community Manager for Oakland Park Towers and the Area Manager for Aspen Riverpark. We are grateful to have her a part of the IPG and Sage family!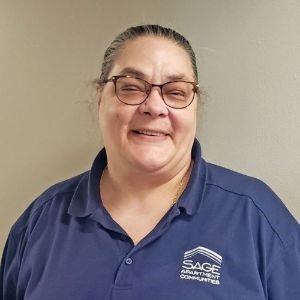 Cathy joined Sage on July 1, 2014 and has been the manager of Oakland Park Towers (OPT) in Troy, MI for the past six years. Cathy is also an Area Manager over Aspen Riverpark in Newark, New Jersey.
Cathy enjoys working with the residents and loves the staff at OPT. The community just completed a total renovation which has improved all of the apartments and amenities in the 11 floor high rise. The community has remained between 98-100% occupied during the six years Cathy has been with Sage and consistently closes below 2% delinquency at month end.
It is hard work, but with time management and a staff that backs you up, it can be done. Cathy enjoys helping anyone that has a question and is always open to ideas on how to complete difficult tasks. Cathy also travels from time to time to other properties and assists with whatever is needed at Sage.
Cathy has been married for 25 years, in September of this year, to her husband, Carlos. Their son, Christopher, graduated from high school this year. In her spare time, she enjoys spending time with her dog, plays BINGO (which she misses since COVID) and buys scratch-off tickets – she always wins at both!